What is Sandblasting?
What is Sandblasting?
Sandblasting is the operation of forcibly propelling a stream of abrasive material against a surface under high pressure to smooth a rough surface, roughen a smooth surface, shape a surface, or remove surface contaminants.
Sandblasting is just one of several blasting-type surface finishing processes. There's also shot blasting, which is even more effective at smoothing otherwise rough and rigid surfaces.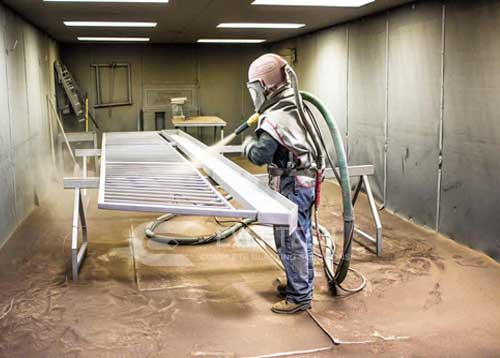 The range of uses for abrasive grit blasting are very broad and include
-surface preparation prior to painting, bonding or other coating operations
-removal of rust, scale, sand, or paint from fabricated components
-roughening of industrial gas turbine engine component surfaces in preparation for thermal spray coating
-emoval of burrs or edge profiling machined components
-providing a matte cosmetic surface finish on consumer products
-removal of mold flash from plastic components
-surface texturing of tooling, and molds to alter the appearance of molded or stamped products
Equipment Used In Sandblasting
Sandblasting uses high-pressure compressed air to propel blasting media on the project. This reliable technique suits a wide range of surfaces and a selection of treatments including a variety of abrasive media. Sandblasting equipment removes contaminants such as stripping rust, grease and old paint to provide surface adhesion for new coatings. Sandblasting systems include these components:
-Air blast rooms: These are clean rooms that are environmentally controlled with abrasion media recovery for highly-productive and efficient operations.
-Portable sandblasting equipment: Mobile air blast systems have pressure pots in various sizes for increased productivity in portable configurations.
-Blast cabinets, suction and pressure: This stationary sandblasting equipment also ranges in size. It uses a siphon feed system and a balancing pressure regulator to ensure equilibrium inside the blast cabinet.
-Bulk blasting systems: These are large sandblasting units available in stationar models or truck-mounted for total portability.
-Vacuum sandblasting machine: More sophisticated sandblasting equipment have systems that blast and vacuum simultaneously and avoid any open air contamination.
-Wet blast equipment: Occasionally, sandblasting equipment uses water to eliminate friction heat and prepare surfaces by scrubbing instead of abrasion caused by dry blasting.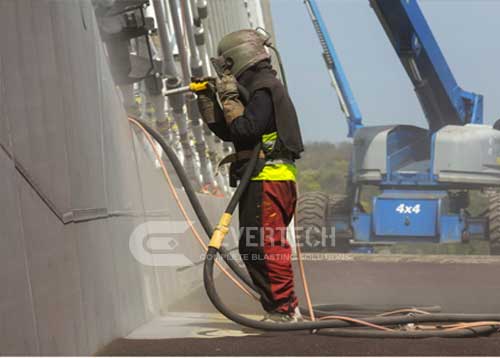 Commonly Used Sandblasting Abrasive
There are many options available for the medium to be used in the process of sandblasting. The options can range from biodegradable substances, such as walnut shells, to specially manufactured steel grit. Therefore, you can make the choice, that is best for you, based on your personal needs and attitude toward the job.
-Steel Grit
-Aluminium Oxide
-Steel Shot
-Crushed Glass Grit
-Corn Cob
-Plastic
-Walnut Shells
-Silicon Carbide
-Copper Slag
The Process of Sandblasting
In reality, the process of mobile sandblasting near me is not necessarily complicated. As a matter of fact, you will easily understand the gist after a few understanding of its basics. By essence, the process is composed of at least three components, namely, blasting nozzle, compressed air, and abrasive media. The process of abrasive clothing is commonly used in cleaning metal objects and cleaning them from rust or paint (prior to the application of a fresh new coat). In addition, it can also be used in other purposes, such as for small object cleaning or etching.
Media selection is considered to be a crucial decision when talking about the engineering of mobile sandblasting. The different media types come with various qualities, ranging from density to sizes to hardness to shape. More importantly, each of them is readily available in a broad range of particle sizes.
As far as the equipment or tool used in the process, this could differ from one industry to another. Some are fond of utilizing hand cabinets and/or completely robotics systems while others resort to a dedicated automatic high production model. When choosing the type of machine to be used, the decision is based on the certain surface treatment applied.