What is Shot Blasting?
What is Shot Blasting?
Shot blasting: abrasive gets acceleration through the throwing wheel, which is rapidly turning in a special steel housing, with one side oriented opening. Shot blasting directly converts electric motor energy into kinetic abrasive energy by rotating a turbine wheel. The capacity of each wheel goes from approximately 60 kg per minute up to 1200kg/min. With these large amounts of accelerated abrasive, wheelblast machines are used where big parts or large areas of parts have to be derusted, descaled, deburred, desanded or cleaned in some form.
Often the method of transportation of the components to be blasted will define the type of machine: from simple table machines to integrated, fully automatic manipulator machines for full series automotive manufacturers, through to roller conveyors and strip descaling systems.
Shot blasting is used in almost every industry, it is a highly efficient preparation for nearly all metal items including aerospace, automotive, construction, foundry, shipbuilding, rail, I-beams, angles, pipes, tubes and large fabricated pieces.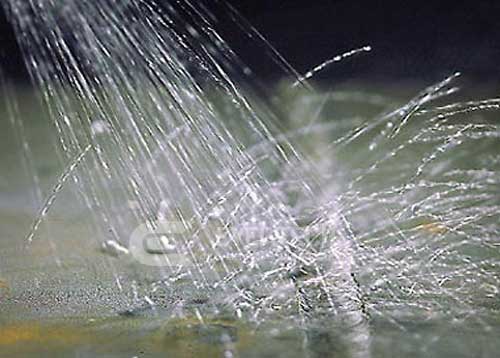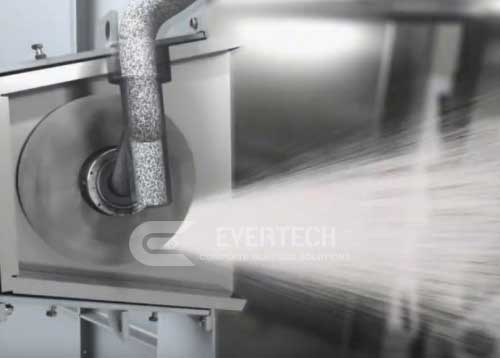 Equipment Used in Shot Blasting
Shot blasting uses wheel blast equipment to propel abrasive media on surfaces being treated for final finishing. This equipment uses a specially designed and closely controlled wheel to generate centrifugal force and blast abrasives like steel shot and steel grit on products. The process involves "throwing" media at a surface rather than "blowing" it. This is the common equipment used in shot blasting systems:
-Tumble belt shot blasting machine: Tumble blasts allow continuous blasting cycles with continual abrasive recycling. These machines have built-in rubber belt and steel flight models in different sizes.
-Swing table shot blasting machine: Direct drive blast wheels swing out for loading and unloading abrasive media.
- Work table shot blasting machine: These are fixed equipment components with direct drive wheels mounted inside the blast cabinet.
-Spinner hanger shot blasting machine: These direct drive blast wheels have rotating spindles that allow loading and unloading abrasive media during a continuous blast cycle.
-Cylinder shot blasting machine: Certain shot blast equipment specializes in removing rust and old paint from all forms of metal cylinders.
-Stone shot blasting machine: Increase the surface roughness of pavers, marble, etc.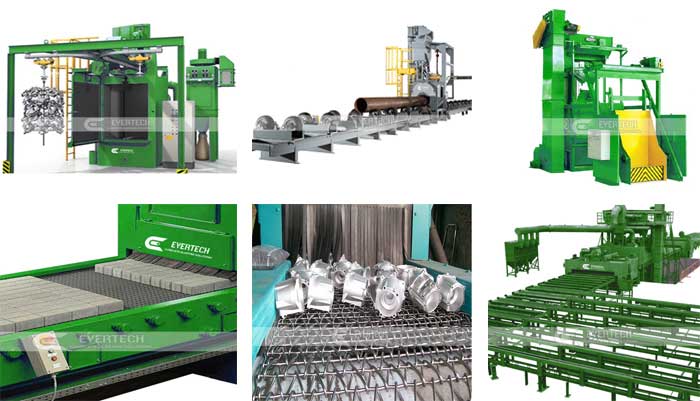 There are also many types of blast media that can be used as shot blast material. These include, but are not limited to
-Steel shot
-Steel grit
-Stainless steel shot
Shot Blasting Standards
The life of paint, powder and other coatings applied to the surface of steel depends largely on how the surface of the steel has been prepared initially.
It essential that all mill scale, rust and previous coatings have been totally removed prior to painting and coating so that the new coatings are able to adhere to the steel. Coating over anything other than a bare white metal surface will lead to premature failure of the coating - rectification will be expensive as the coatings will have to be removed, the steel surface prepared properly and new coatings applied. If the steel has to be dismantled and removed from site then the cost of rectification will be out of all proportion to the initial cost of the project.
Shot blasting will ensure that the steel is cleaned to bare white metal, SA2.5 / SA3, giving the best possible surface essential for the application of paint, powder and other coatings. The standard surface treatment quality is usually SA 2.5.